casey and i watched
300
last night. i have to say i really enjoyed it quite a bit. the story is really rather simple, and the cinematography is breathtaking, but i have to say i enjoyed feasting my eyes on some very fit, very attractive men.
i'm totally not one for beefcake at all, but good gracious, if women have a reptile brain, then by golly, mine was slithering. i
kinda
figured that the makeup artist had enhanced the faces and bodies of the actors, and at one point, when the light was just so, everyone's chiseled abs just sort of melted away. after seeing photographs of gerard butler, the actor who played luscious leonidas, i have to say the makeup artist should win an oscar. he's not
bad
looking, but he ain't no sexy spartan either.
here he is on the left, looking quite kingly on the set...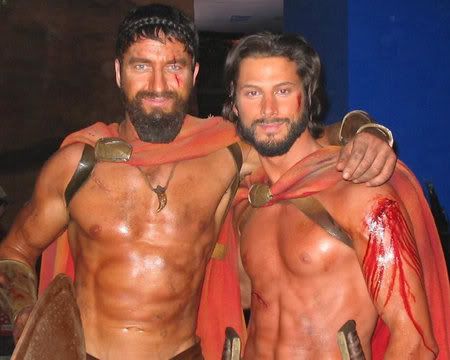 ... and in real life.
[yawn]